WNBL Game Day 12
2018-05-15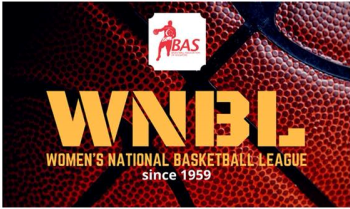 13 May 2018
WNBL Game Day 12, Sunday 13 May: Qian Xi Blue 64-31 Adroit (新加坡圣公文化) Blue and Radin Mas 28-80 Qian Xi Red.
In the first match at 6.00PM, Qian Xi Blue won its 5th game in the competition to go second in the table against Adroit (新加坡圣公文化) Blue. Adroit (新加坡圣公文化) Blue remained the only side that had not win a single game in the competition, and having played all matches in the current round, gaining 8 points out of 8 games. They also might end up the bottom team in the table should current bottom of the table Jumpshot wins any of their next 2 games. On the other hand, Qian Xi Blue is firmly one of the title contenders with 12 points; its last game will be against Adroit (新加坡圣公文化) Red on 20 May and should progress to the semi-finals. Top scorer for the game goes to Qian Xi Blue Tan En-Min Jayne Sarah once again with 19 points, and regular scorer for Adroit (新加坡圣公文化) Blue's Ang Zi Yi Lydia with 11 points.
In the next game at 7.30pm, Qian Xi Red came out victorious against Radin Mas to put Radin Mas's hopes for the semi-finals seriously dented. Following this victory, Qian Xi Red now sits atop of the table with 12 points and goes into the final 2 Game Days unbeaten Qian Xi Red dominated the game where other than the huge scoreline difference; Radin Mas had been unable to score more than double digits for the first 3 periods; 5-13, 7-22, 4-21. Qian Xi Red's next 2 games are against Kembangan Chai-Chee on 16 May and against Siglap on 20 May. Radin Mas's last game is against Hillcrest Grays, another title contender, and would need results to their favour to qualify for the semi-finals. Qian Xi Red's Wong Valentia Shu Ting and Lee Mi Yun Sharon are the top scorers for the game with 13 points each, while Tang Amanda Jia Qi of Radin Mas scored 11 points.
Upcoming Game Day 13, Wednesday 16 May 7.30pm, will feature Hillcrest Grays (4th) vs bottom dweller Jumpshot. Both sides have stakes on hand as Hillcrest Grays would want to secure semi-finals placing while Jumpshot would be eager to move out of the bottom of the table. In the 9.00pm game, leaders Qian Xi Red will pit against Kembangan Chai-Chee (7th) and hope to remain unbeaten in the tournament while Kembangan will also look to climb up their ranking in the table with 2 games to play.
Head over to: http://www.bas.org.sg/ for Live Scores, and our Instagram & Facebook page for more match photos, preview & results!