ActiveSG-BAS National Masters 2018 Third Place Play-off & Finals!
2018-05-30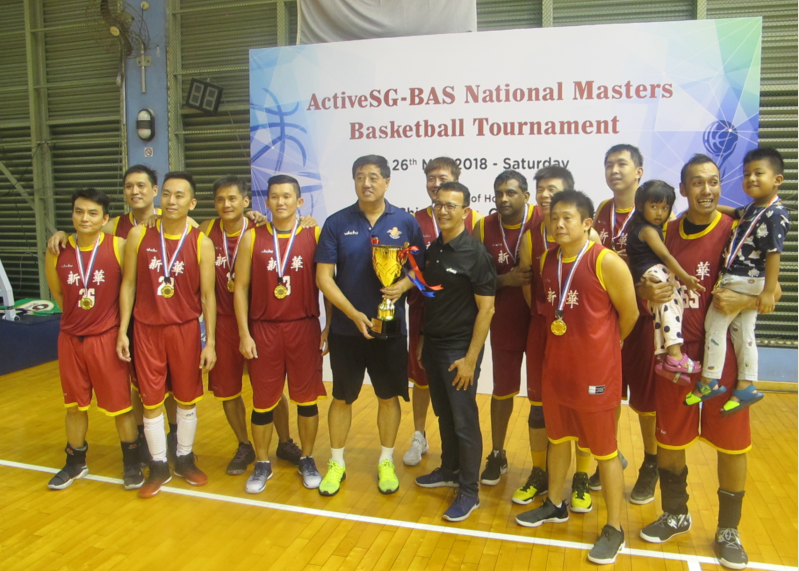 Saturday, 26 May 2018
· Men's 40-49 3rd Placing (4.00pm): MacPherson 53-63 Team Siglap
· Men's 50 and above Finals (4.00pm): Le Champs 71-33 Lion City Sports Club
· Women's 35 and above Finals (6.00pm): Qian Xi 49-35 Kembangan Chai-Chee
· Men's 40-49 Finals (6.00pm): Siglap 38- 65 Singapore Xin Hua Sports Club
The ActiveSG-BAS National Masters 2018 had come to an end following 9 Game Days and as many games in the tournament.
In the first game for the Men's 40-49 3rd Placing, Macpherson and Siglap played an evenly matched game with an extremely tight score line, with both sides trying to prevent the other from scoring. As the game went on, both sides resorted trying their luck from 2-point, with varied success. Nearing the last periods, both sides mustered all their strengths, launching fast counter attacks through the flanks, with Team Siglap ultimately proving the more clinical side.
In the Men's 50 & above Finals, it is an opposite story from the Men's 40-49 3rd Placing as Le Champs dominated the game against Lion City Sports Club until the second period: 44-12. By the end of the third period, the score line became 55-19. Le Champs showed more sharpness, proficient under the ring and equally good from 3-point. Lion City seems to be difficult to keep up with Le Champ's pace as many Free Throws were awarded to Le Champs. Overall, both sides showed their experiences at this level and try to create spaces from outside the ring creating pass options, with Le Champs waiting and building up play patiently, winning as the better side.
In the Women's 35 & above Finals, in an exciting yet equally error-strewn game, both sides committed many errors from the start, leading to both sides counter attacking directly. Soon after, the game settled with players in holding positions to intercept passing and plays, and Qian Xi ultimately winning the Women's 35 & above category.
The last category of the Masters tournament, Men's 40-49 Finals: Singapore Xin Hua Sports Club clinched the title of the category against Siglap. Both sides looked equal initially, having lots of interceptions similar to the Women's game. By the end of the first period, score line: Siglap 7-13 Xinhua. Skills and experiences definitely count at this level, and Xin Hua successfully convert many 3 pointers as well as launching fast, precise counter attacks, similar to other finalist teams to great effect. Interestingly, Xin Hua allowed Siglap to crowd their own half throughout most of the game, soaking up the pressure, before countering when the moment arrives, possibly to conserve energy.
Mr Abdul Rahman Hassan (Director of ActiveSG) graced the event as the Guest of Honour; with the Victory Ceremony followed by Photo-Taking sessions took place soon after. The tournament saw excellent teamwork displayed by the teams, skills and most importantly experience, at this level of competition! Thank you to all participating teams in this year's tournament, fans, officials!
End