WNBL 2018 Champions: Hillcrest Grays!
2018-05-28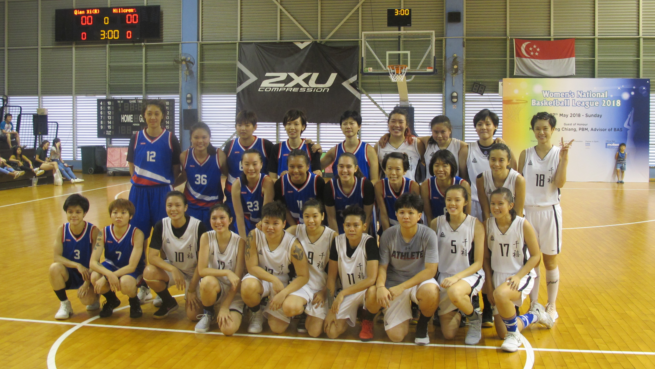 Sunday, 27 May 2018
· Finals (6.00pm): Qian Xi Red 39-51 Hillcrest Grays
· Third Place Play-off (4.00pm): Siglap 62-41 Qian Xi Blue
· Most Valuable Player (Finals): Cheryl Poon
We have finally reached the finishing line of the 2018 Women's National Basketball League competition. After 14 rounds of games in Regular Season, 2 legs of semi-finals, 3rd place play-off as well as the Grand Finals, Hillcrest Grays has been crowned champions, with runners up: Qian Xi Red. Siglap clinched 3rd placing in the third place play-off game following a win against 4th placed Qian Xi Blue.
Hillcrest Grays sealed the Championship in a classic unexpected style. Different styles of play meet each other in the finals where Qian Xi Red qualified for the Finals with an unbeaten record along with a swashbuckling style, while Hillcrest Grays qualified looking solid from defence to attack though recorded a loss on the way the finals.
Straight off the tip-off, both finalists begin attacking immediately, employing fast counter attacks to gain points advantage. The game soon turned physical as both sides trying to break down their opponents' plays; covering every inch of the ground of interceptions for fast breaks and attacks. By the end of the first period, Hillcrest Grays is leading 9-13. By the second period the scoreline became wider: 19-25. Qian Xi Red tried hard to fight back but Hillcrest Grays seem to continue to have an edge over them tactically by shutting them down in attack. All periods: 9-13, 10-12, 16-10, 4-16. Top scorer as well as the Most Valuable Player for the finals goes to Cheryl Poon Shuwen of Hillcrest Grays, having scored 16 points with 3 assists. Qian Xi Red's Lim Rui Jia Alanna is her side's top scorer with 9 points, and also won 17 Total Rebounds.
In the earlier Third Place Play-off, Siglap clinched 3rd Place by emerged triumphant against Qian Xi Blue. Both were quite equal and similar in terms of strengths, with the score margins very close. However, by the end of the first period, Siglap outscored Qian Xi Blue 25-10. Qian Xi Blue subsequently found it hard to score against Siglap, in which Siglap had settled into the game from their clinical shots, passing rate; due to their growing confidence. Qian Xi Blue went all out in an attempt to turn the tie around in the last two periods but it is too late. All periods: 25-10, 18-7, 8-16, 11-6.
Mr Quek Hiang Chiang, PBM- Advisor to Basketball Association of Singapore, graced the event as the Guest of Honour with the Victory Ceremony followed by Photo-Taking sessions took place at around 7.30pm. Like the ActiveSG-BAS Masters tournament, the last Game Day of WNBL 2018 truly live up to its hype as shown from the two games, with lots of firepower, guts and energy displayed from all teams involved.
Lastly, a big thank you to all participating teams in this year's WNBL, and do stay tune to next year's WNBL season! Website: www.bas.org.sg for All Scores, BAS Instagram & Facebook on more game photos, Victory Ceremony!
End