Featured: Former Singapore National Team Players and Their Stories
2020-12-07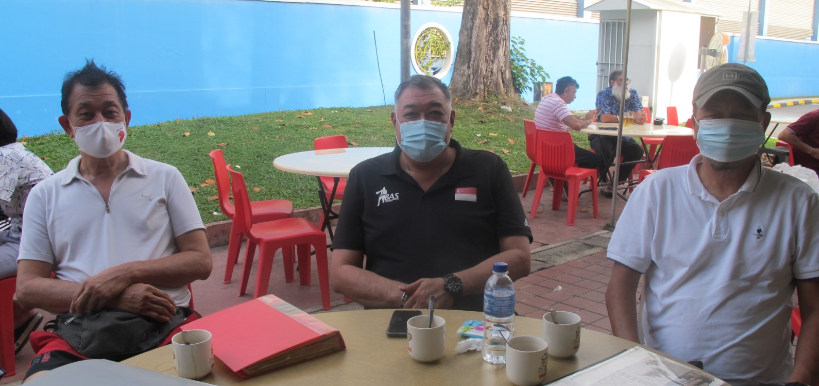 Photo: Chin Hong, Jabbar, and Colin in 2020. Not in picture: Chong Yew Seng.
This article was first published on BFGSfG: https://www.bfg-sg.com/stories/in-conversation-with-80s-stars
We sat down with Singapore's top basketballers from the 80's over coffee and listened to them talk about how the game was like for them back in their prime. Four of our former internationals — Colin Lai, Steven "Jabbar" Ong, Teo Chin Hong and Chong Yew Seng — spoke freely in a mix of Mandarin, Hokkien and English about their time playing in the national team, and what they feel about how the game has progressed today.
They were stalwarts of our national team, and have since gone on to achieve success in their post-playing career as coaches. All four of them had at some point also been a coach or as a selector for the various national squads.
From the camaraderie that they shared to the memories of them in their heyday, countless nostalgic memories were brought back.
Our conversations have been edited, translated and condensed for clarity.
BFGSG: How did you start playing the game?
Chin Hong: I studied at a Chinese school, Yock Eng High School (now known as Yuying Secondary), and volleyball and basketball were the popular sports in the school then. My elder brother played basketball too, so I would follow them whenever they play. Back then, when you are young, you follow your siblings around. Last time no television to watch [laughs]. I would see my brother win the school's national championship, and their reward is the chance to go overseas. I was thinking 'woah you get to go overseas just by playing basketball'?
Colin: Chin Hong's brother was the one that asked me to go play basketball. He said: 'You are so tall but you play soccer. Go play basketball lah. Those of us that studied in English school, most of us played soccer growing up. I was from Siglap Secondary. Either you play soccer or athletics.
Yew Seng: Chinese schools all play basketball then. I used to play table tennis in Primary School (Chongfu School), and one day my friend asked me to play basketball at the community centre.
Colin: There were very few Malays and Indians playing then. Mostly Chinese, as basketball was popular in Chinese schools, not so in English schools. Now it's better, a lot of other races play.
Chin Hong: We had this Indian teammate (the late, great K Harikrishnan) in the national team.
Colin: He knows how to play mahjong. There was one time the Taiwanese team came into our room, and they were shocked to see him playing with us. They were wondering how come the Singapore Indians knew how to play mahjong [laughs].
Note: Sadly, Hari (as he was affectionately known) passed away in 1983 at the young age of 27.
Colin: We didn't have any coach back then. During PE lessons, the teacher will bring out one big basket, and inside the basket, there were all the different types of balls. You choose the one you want to play. What you like, you take and play.
Steven (Jabbar): I studied in an English school (Beatty Secondary). Back then, nobody played basketball in English schools. So I played soccer and rugby growing up. When I was in Secondary 4, my friend asked me to join them for a basketball game as I was tall. I didn't know how to play at first, and the coach gave me very simple instructions: 'Just block any ball that comes at you'. He told me to count their steps, 1, 2, and at their second step, just jump and block the shot.
Colin: Yes, Jabbar is tall. He can easily dunk. Back then, not many people can dunk.
Jabbar: I started to watch the NBA and saw that 'wow you can jump and dunk like that too'.
Colin: In fact, I only started playing when I was 17. I was playing soccer before that, and I didn't know how to play basketball at first. We were all captivated by the likes of Dollah Kassim, Quah Kim Song and Mat Noh, and whenever there was a Malaysia Cup game at the National Stadium, me and my friends would always go and watch.
Yew Seng: We always see Fandi Ahmad when we gather in the SEA Games contingent [laughs].
BFGSG: How was national team training like back then?
Chin Hong: I ran everyday. Myself, Yew Seng, and my brother, when we were preparing for a tournament, we will go run before training, run up to Mount Faber before going to work.
Colin: Whenever there is an overseas tournament coming up, we will always wake up at 5.30am and go to the stadium and run. Then we will go off to work, and then after our work, we will come back to the stadium to train again.
Yew Seng: We used to train until late at night, then go home, next day morning come back to train again. Very tiring.
Chin Hong: Me and my brother will also wake up early in the morning at 5.30am, then go to the basketball court and start shooting. The sound of the ball bouncing will always wake the security guard, who is still sleeping.
Colin: Sammy!
Jabbar: We were more obedient lah. Whatever the coach says, we do. He says run how many rounds, we run how many rounds.
Colin: Whatever the coach says, we do. It's that simple. Now, the players bargain with us [laughs].
Colin: The coach will make me shoot 200 shots. When the others are resting, I have to practice my shots. And it is not just catch and shoot. You must run to the particular spots [the five spots around the 3-point arc], catch and then shoot. In international games, where got time for you to stand there and shoot. The opponents are not going to give you the time. I used to take 1.5 hours to finish making 200 shots, then gradually go down to 1 hour.
Yew Seng: Those that are not shooting, will pass to him or rebound the ball. We were also training how to time our passes to him, right into his catching pocket. The timing must be precise, that is very important. You must catch the timing when the shooter comes off the screen, and know the exact moment to release the pass.
Colin: But 200 shots is very little. When I was at an international tournament, I spoke to a Korean sharpshooter. And he told me he had to make 500 shots a day! If you want to play internationally, you have to sacrifice. If you want to relax, go play recreational ball. We will run the steps at the old Gay World Stadium. Up and down, up and down. That was tough.
Chin Hong: We used to have centralised training before a major tournament. We will stay at a hotel, wake up for morning training, go to work in the afternoons, and come back at night to train again.
Jabbar: Everyone will turn up for centralised training. We enjoy those moments.
Colin: Playing for the national team, you get the chance to go overseas. Back then, not many get the chance to travel. We used to have newspaper reporters from the Chinese papers following us on our international tournaments. They will watch and write about the game, and Telex their report back to their HQ in Singapore. Basketball was always in the papers then, and they will report on the happenings at BAS.
Jabbar: We trained and played at Gay World Stadium. The capacity is 6,000 spectators, but usually exceeded when there is a game.
Chin Hong: Ya, all the seats are filled. You have people standing, sitting on the steps, or at the sidelines. If there is space, they will sit.
BFGSG: How was your first experience playing against foreign teams?
Colin: 'Woah so tall! 7 feet!' And your shots keep getting blocked by them.
Yew Seng: All of them are so huge, how to stop them?
Colin: If you go out and play against better players, you know that there are better players out there and you are not the best player. When you only play in your own country, you are the best, and in your mind you will keep thinking you are the best. The Philippines have the PBA and they get regular exposure to playing against these big imports, thus they are not afraid to go up against them. We were never exposed to these types of players, so the first few times we played against them, we got a shock.
Jabbar: We used to get invited for the William Jones Cup, and we also have the Merlion Cup. The first year that China came for the Merlion Cup, their shortest player was the same height as our tallest player!
Colin: Mu Tiezhu came, he was 7'5.
Chin Hong: When Mu Tiezhu stood in front of our players, we couldn't see our own teammate!
Jabbar: The stadium was always packed for our games. The local public were intrigued by these players. They had not seen anything like that before.
BFGSG: How has the game changed since your playing days?
Colin: If you were 5'9 or 5'10 back then, you were considered tall. You hardly find any players 6' and above. It's a totally different play style. When we played, the centers and power forwards always stayed inside. You can get out of the post, but not to shoot, rather you are there to get the ball, pass it back to your guards, and go back to posting up. We played with lots of set plays in our time. Now, it's faster.
Chin Hong: Our coaches didn't give much instructions when we were on court. Now, the coaches give a lot of instructions, but whether the players on the court follow, it's a different matter. We analysed the situation on our own and adjusted accordingly.
Jabbar: We only have three positions then: Guard, Forward, Center. Now, everything is more specialised. When we have the ball, we will wait for everyone to advance up the court. We play one possession at a time. Now, the game has more fastbreaks. They get the ball and they will try to score quickly.
Colin: We treasured each possession.
Jabbar: Yes, once we get the ball, we really treasure it. We don't chuck up shots just because we feel like it.
Colin: We will keep passing the ball, probing until we get a good shot. We will only try for a shot if we are confident of scoring.
Chin Hong: At first when we played, there was no shot clock, then the shot clock was 30 seconds, then it became 24 seconds.
Jabbar: The rules change, so you must change also.
Chin Hong: The game is faster now because of these changes.
Jabbar: As coaches, we have to adjust to the changes. We have to move with the trend. We cannot still be playing slow, possession by possession, when everyone is now playing fast.
Colin: The ABL has helped us a lot. You can see it when we won the bronze at the 2013 SEA Games, after 34 years.
Jabbar: We need to expose the players to these different tournaments.
Colin: We need these games against international opponents, especially against opponents on a similar level as us.
Jabbar: We used to play in the basketball version of the 'Malaysia Cup'. We will travel to the different Malaysian states to play their state team, similar to what soccer was doing.
Chin Hong: We followed the example of soccer, we will take a bus up to the different states to play against their state teams.
Colin: Our team was all the national players. Their state teams had at most 2-3 national players.
Chin Hong: So after two years, they did not allow us to take part again. Both years we got to the final only to lose to Selangor. Their Selangor team is like their de facto national team. Malaysia was a very strong team then. They were Asia top 4 at one point.
As much as we always hear this, things really were different back then. Social media was non-existent, and the game wasn't as advanced as it is now. The lack of available video footage also meant that their memories of their heyday will probably forever be just that, memories.
Perhaps it was a purer way of playing the game, one entirely led by their passion for the game and desire to do themselves and their country proud.
End