ICBC NBL 2018 Semi-finals
2018-10-04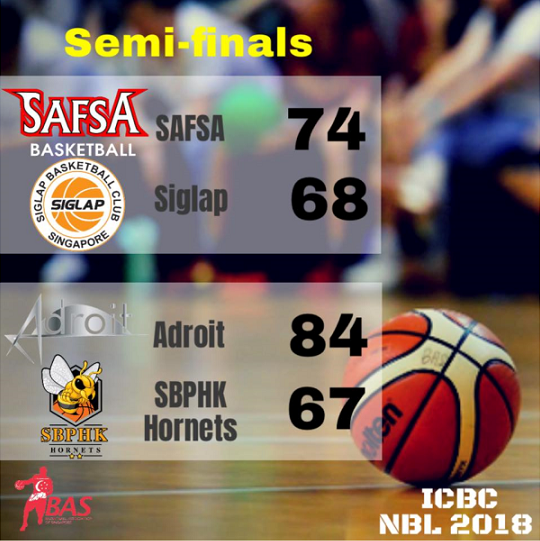 ICBC NBL 2018 Semi-finals

Final Semi-finals Results
Semi-finals: 3 October




SAFSA 74 – 68 Siglap

Adroit 84 – 67 SBPHK Hornets
Semi-finals Game 1: SAFSA 74 – 68 Siglap
In the earlier semi-finals game at 7.30pm, SAFSA march into the tournament's Finals with a convincing win against Siglap. Siglap tried to come back into the game but was ultimately undone during the 1st quarter where the score margin is 11 points (22-11). SAFSA, as usual, employed faster counter attacks and showed greater clinical shooting accuracy. Siglap tried catching up in the 2nd quarter and managed to win (12-19). At one point in the 3rd quarter Siglap had lead by 41-37, but it was not enough to win the overall match. Siglap's Steven Khoo is the game's top scorer with 23 points while his teammate Shawn Lim and SAFSA's Delvin Goh shared the runner-up ranking for scoring with 18 points each.
Semi-finals Game 2: Adroit 84 – 67 SBPHK Hornets
Adroit defeated SBPHK Hornets in the later semi-finals game at 9.00pm to face fellow favourites SAFSA for the ICBC NBL 2018 Championship title on Sunday, 7 October at 6.00pm. A close-fought game, though Adroit had more of clinical accuracy except in the 3rd quarter where SBPHK Hornets had lead (15-26), but Adroit restored their lead in the 4th quarter (31-9) and ultimately win the game to set a date with SAFSA for the grand honours on Sunday. Adroit's Wong Zhong Han is the game's top scorer with a breathtaking 35 points, with the runner-up shared between SBPHK Hornets's Oh Wei Jie Desmond and Kelvin Lim with 16 points each.
Finals & 3rd Place Playoff: Sunday, 7 October
The Finals will be held on Sunday, 7 October, at Singapore Basketball Centre (SBC) with SAFSA vs Adroit at 6.00pm and Third Place honours: Siglap vs SBPHK Hornets at 4.00pm.
· Finals: SAFSA VS ADROIT (6.00pm)
· Third Place Playoffs: SIGLAP VS SBPHK HORNETS (4.00pm)
Catch the Finals and Third Place Playoff live at:
• Singapore Basketball Centre (SBC)
• Facebook: BAS/ Eleven Sports Network
• YouTube: SportSG YouTube Channel
Check out the latest scores/ updates at BAS Facebook Page or www.bas.org.sg!
End